Name: Angelina Jolie Voight
DOB: 4 June 1975
Birth Place: Los Angeles, USA
Claim to Fame: Actress
Location: Los Angeles, USARate Celeb:
BIOGRAPHY: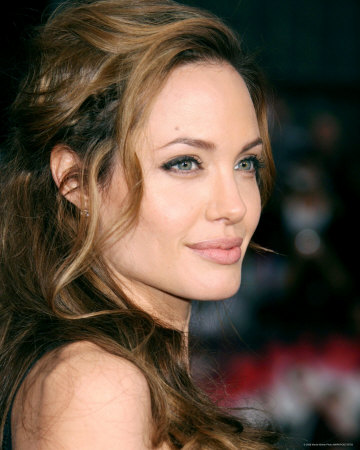 Angelina was memorably described as "Oh god who's the other one?" by Kate Winslet, who narrowly beat her to an Oscar in 2009. So for Kate's sake let us summarise:
Angelina hasn't always been the earth mother and better half of Brangelina. Once upon a Hollywood Angelina was the wife of Billy Bob Thornton and fantasy of teenage boys across the land as star of the Tomb Raider films. Angelina was Hollywood's wildest bad girl putting any of LiLo's antics to shame.
Following a failed marriage to British actor Johnny Lee Miller, Angelina wed Billy Bob Thornton in Vegas wearing a phial of her new husbands blood and sporting a tattoo of his name on her arm.
A year later the couple adopted an orphan from Cambodia called Maddox. However the couple drifted apart and Angelina filed for divorce in 2002.
Following the breakup Angelina turned her hand to charity work and has been a UN goodwill ambassador since 2001. She insists on covering all costs related to her missions and shares the same working and living conditions as the other staff on all of her visits. Angelina has given millions of dollars to various causes including one million to help the relief efforts following the earthquakes in Haiti.
In 2005 she added to her family by adopting a little Ethiopian girl called Zahara. In the same year she started filming Mr and Mrs Smith with actor Brad Pitt and it wasn't long before rumours started flying. In 2006 it was confirmed the world's most attractive woman was in a relationship with the world's most attractive man. The couple have been together since and have six children.
Angelina has also managed to fit in a fair few good films along the way starring in The Changeling and Girl, Interupted. She is regarded one of the world's best actresses as well as being one of the highest paid.